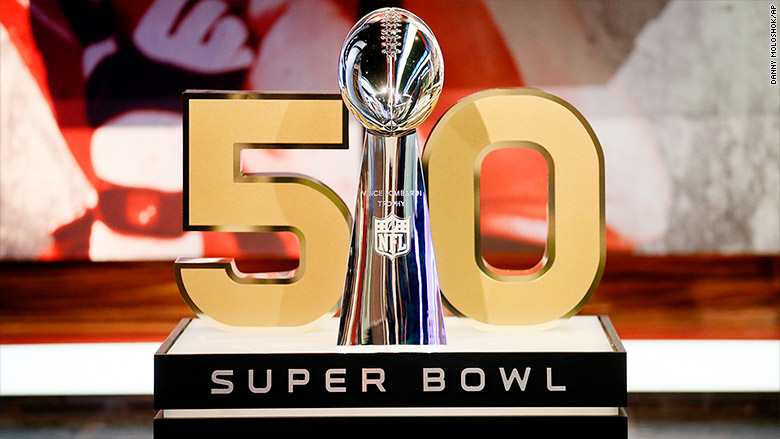 Are you ready for the Super Bowl 50 kickoff this Sunday, February 7th at 6:30PM? Whether you're simply in it for the halftime show, or you're actually a true football fan…this is an American tradition you don't want to miss out on!
The Denver Broncos (AFC champions) and the Carolina Panthers (NFC champions) will face off at Levi's Stadium in Santa Clara, California. This is the eighth time the Broncos (2-5) have made the Super Bowl and the second time for the Panthers (0-1). Here are some stats about both teams:
Broncos:
The team has the second-lowest ranked offense that has ever advanced to the Super Bowl (22.2 PPG/19th in the league in 2015)
The Broncos come out on top in close games (11 wins by seven points or less in 2015)
Compared to the other four teams that have made the Super Bowl eight times (which is the most times in NFL history), Denver is the only team to have a losing record (2-5)
Leading men: QB Peyton Manning, LB Von Miller, Coach Gary Kubiak
Panthers:
The team has rushed for more than 100 yards in 31 consecutive games (the longest streak since 1974)!
Kuechly and Thomas Davis are the dynamic duo! These veteran linebackers were two of the three NFL players who made at least 100 tackles and four interceptions this season.
The Panthers almost had a perfect season (15-1), but does this mean they don't have a good chance at winning the championship? Past teams who've shared the same experience have failed to win.
Leading men: QB Cam Newton, LB Luke Kuechly, Coach Ron Rivera
This year's halftime show will feature Beyonce, Coldplay, and Bruno Mars.
Are you hosting a Super Bowl party? Here are some tooth-friendly snacks from the ADA to help you tackle your hunger. Recipes can be found here: http://www.mouthhealthy.org/en/nutrition/super-bowl-recipes/?content=superbowl&medium=rotator&source=mh/
Spicy Jalapeno Dip:
Remember to eat your veggies! The carrots in this dip can make your teeth extra strong – it has beta-carotene that helps in the creation of vitamin A. Sour cream also contains calcium, which is essential for strong teeth.
Hummus with Cucumber:
Hummus is a great choice for staying healthy in general, and especially for your teeth. Chickpeas are a great source of folic acid, which promotes oral health through cell growth. Cucumbers are rich in vitamins B and C and can help freshen your breath and whiten your teeth!
Meat & Cheese Tray:
Cheese is full of calcium and casein, which helps protect the surface of your teeth. Make sure to choose whole wheat crackers that have fiber and to brush your teeth after the game to prevent bacterial growth from the crackers sticking to your teeth!
Baked Cheese Roll:
Goat cheese is especially great, because it is packed with protein and calcium but has less fat and calories per serving.
7-Layer Dip:
The cheese and Greek yogurt help neutralize tomato and citric juices, which are acidic and can create problems for your teeth. This dip is rich in vitamins A, C, and E, which all help maintain oral health.
Feel free to contact Drs. Ali & Ali and their newest addition to the team, Dr. Zarah Ali, if you have any thoughts or concerns. The caring team at Wellesley Dental Group will be happy to answer your questions! Contact us today at 781-237-9071 or smile@wellesleydentalgroup.com to set up an appointment and consultation. Your little ones and teens are welcome to visit our pediatric dentist Dr. Van. Dr. Emad is happy to help with your orthodontic needs. For wisdom teeth extractions or any other periodontal or oral surgery needs, Dr. Ghazi would be more than willing to help
Resources: